2012 Thunder vs Heat Game 4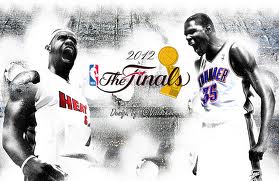 The Oklahoma City Thunder will be in Miami again for Game 4 of the NBA Finals to battle against the Heat. Miami leads the series 2 games to 1, but the last 2 games have been decided by 6 points and 4 points, so it should be another great game to watch!
Game:
Oklahoma City Thunder vs Miami Heat
Thunder vs Heat BetOnline.com Betting Odds and Money Line:
Oklahoma City Thunder +140
Miami Heat -160
Point Spread:
Oklahoma City Thunder +3.5 (-110)
Miami Heat -3.5 (-110)
Over/Under:
192.5 (-110)
Odds subject to change. Please visit BetOnline.com for current odds.
Prediction:
Heat Beat Point Spread and I take the Under
Location:
Miami, Florida
Date:
Tuesday, June 19, 2012 at 9:00pm Eastern Time
Oklahoma City Thunder:
The Oklahoma City Thunder has had another fabulous year throughout the entire season. Although they are currently down 2 games to 1 and playing in Miami, this still should be a great battle of the Titans. The Thunder, in my opinion, has been getting robbed on the officiating and easily could be up 2-1 in the series. Either way, this is great experience for the young Thunder team and I see them making it to the NBA Finals for several years to come.
Miami Heat:
The Miami Heat has been playing very solid in this series, and are oh so close to finally winning that NBA Championship, at least I should say a championship for LeBron. If they keep playing aggressive on offense, don't get lazy on defense, especially on the fast breaks, the Heat should easily win Game 4. This could be the widest margin of victory thus far.
Oklahoma City Thunder vs Miami Heat Prediction:
This has been a spectacular NBA Finals with the Thunder and Heat. Superstars fill the court and the Thunder is going to have their hands full in this game on the Miami home court. Chris Bosh has been the key to the recent success of the Heat, and has been the missing key in the post season when he was out with the injury. I predict the Heat winning this game easily and by a wider margin than expected, but in a low scoring game.
Prediction:
Heat Beat Point Spread and I take the Under
Place your bets now at BetOnline.com