Matt Kuchar Wins THE PLAYERS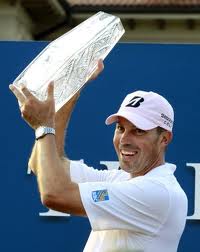 PGA TOUR fan favorite, Matt Kuchar, wins the prestigious PLAYERS Championship by 2 strokes. THE PLAYERS Championship is held each year in May at the world-renowned TPC Sawgrass on THE PLAYERS Stadium Course in Ponte Vedra Beach, Florida, home of the PGA TOUR National Headquarters. As usual, this tournament was spectacular to watch with a lot of drama happening on the final 3-holes which includes the infamous par-3 17th island green.
Being a huge golf fan, I was extremely impressed once again with the overall tournament, and it was very exciting to watch Matt Kuchar hold the Waterford Crystal trophy at the end of 72-holes. For those who watched, Kuchar made a spectacular birdie on the par-5 16th hole just after Rickie Fowler made a spectacular birdie putt on #17 to get within 3 shots. Matt then 3-putted the 17th green for a bogey to get Fowler within 2 shots. Just after Kuchar made bogey on #17, Rickie knocked it within about 10 feet on #18 for a potential third birdie in a row to close his round and get within 1 shot. However, Rickie pushed the putt just enough to lip out on the right side, giving Matt Kuchar a two shot cushion going into the last hole. Kuchar ended up paring the final hole to win by 2 shots, but it felt much closer.
In the end there was a four way tie for second place but young PGA TOUR standout Rickie Fowler gave us something exciting to watch, and almost won back-to-back prestigious golf tournaments with the Wells Fargo Championship in Charlotte and THE PLAYERS. It wasn't Rickie time for this year's PLAYERS, but he will be very exciting to watch as he continues to explode through the gates.
This was a huge win for Matt Kuchar, especially since his parents live right up the road from TPC Sawgrass and a course he has played a so many times. I don't know anyone that doesn't like Matt, and it's nice to see the American Flag once again hung high in the circle of Champions. It has been four years since an American Flag has been blowing in the wind in the exclusive winner of champions. Congrats Matt!!