Webb Simpson Wins the 2012 U.S. Open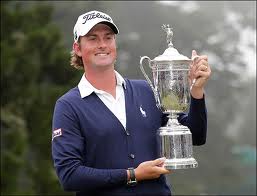 PGA TOUR standout, Webb Simpson, wins the 2012 U.S. Open by 1 stroke at the Olympic Club in San Francisco, California. What an exciting Championship it was to watch, with many highs and lows as usual during this event for the best professional golfers around the world.
I believe this was the third time in the last 30 years that the winner of the U.S. Open finished over par after 72-holes, Webb Simpson at +1. Many could say Simpson deserved winning this prestigious Major since he shot a 68-68 on Saturday and Sunday, mighty impressive if you ask me!
Webb made a great up-and-down on the 18th hole to save par after hitting his tee shot in the rough. From there it was just a waiting game to see if his posted +1 score would hold up. I believe many thought that 2003 U.S. Open Champion Jim Furyk was going to win this Major title, especially after 63-holes since he was playing so solidly and consistently. But, the 670 yard par-5 16th got the better of him when the USGA decided to move that tee up 90 or so yards which made it a very difficult tee shot. Jim hooked it hard into the left trees and rough which resulted in a bogey 6. He later pulled his second shot into the par-4 18th green right into the bunker which ended all hopes in him capturing another U.S. Open Championship.
Also, I believe many were rooting or hoping for Ernie Els, Lee Westwood or Graeme McDowell to win the second Major of the 2012 season. Ernie had his chances to win his third U.S. Open, but failed to take advantage of the last 4 holes which were the birdie holes. Westwood was looking to capture his first Major title but could not put it all together. McDowell, the 2010 U.S. Open Champion at Pebble Beach, had about a 25-foot birdie putt on the 72nd hole to force a playoff. It was right to left break but he missed it left the whole way.
Nonetheless, it's great to see Webb Simpson hold up his first Major Championship trophy, the United States Open trophy. He will represent the USA very well, since he is a genuine great person and well respected by the PGA TOUR professionals. Congrats Webb Simpson!