SPORTSBOOKS for U.S. PLAYERS – Updated for 2018
Sports betting is the activity of predicting sports results and placing a wager on the outcome. Bettors in the USA can place these bets at licensed and regulated sportsbooks mostly found in Nevada (it's also legal in Delaware, Montana, and Oregon), at licensed offshore sportsbooks online (listed below), at a local bookie, or directly amongst person to person.
Some of these options are more legal than others but when is the last time someone got arrested for betting $10 on a game against their friend? Another way to put it is, many experts and gaming associations say Americans wager $250 billion annually [A] on all sports and 96%-97% of those bets are made illegally. Many states are pushing for legalized U.S. sports betting, either on a state-by-state or federal level, with New Jersey and Pennsylvania leading the way.
There is a long list of the different types of wagers a bettor can place on a sporting event such as moneylines, point spreads, over/unders, parlays, propositions, and teasers to name a few. Depending on the sport will determine the types of wagers you can make. The sites listed below are considered the best on the internet today, and they also offer poker and casino games to their customers.
US Betting Sites

DraftKings
Deposit Bonus:
Bonus Codes:
Deposit options:
$600 Welcome Bonus
use link
MasterCard, Amex, Visa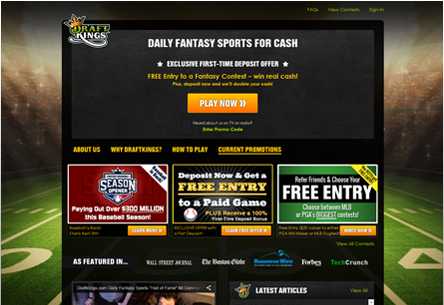 Sports Betting and the UIGEA
The UIGEA's passage [B] in 2006 ended what had become an online gambling boom [C] in the country. This act specifically excludes fantasy sports betting, and the Federal Government still maintains that sports betting is illegal on the internet.
The UIGEA caused some disruption [D] when it came to depositing at offshore sportsbooks over the internet for players in the USA. For the most part, depositing into sportsbooks by credit card was extremely difficult after the passage of the UIGEA.
One of the biggest differences between today's market and during the boom period is that the availability of e-wallets. Neteller, which is still the world's largest e-wallet, is not available for bettors inside the United States, except for states where online poker and casino gambling is regulated, such as Nevada, New Jersey, and Delaware.
Neteller was the clear leading in online gambling payment processing in US markets until they were forced to exit the market after the arrest of their founders in 2007 [E]. However, even without e-wallets available in the US and the occasional credit or debit card denial at a betting site, there are still plenty of options for bettors when it comes to depositing.
If you have trouble depositing with your credit or debit card, there are plenty of other options available. Western Union and MoneyGram, which are usually referenced as "money transfer" or "cash transfer", are available at every sportsbook online. Bank wires and cashier checks are also options at most sportsbooks. Bitcoin, a crypto-currency that has risen in popularity in recent years is accepted at most major betting sites.
Despite UIGEA and other crackdowns on the state level, online betting sites still continue to prosper and operate with little interference from government agencies that try to prohibit them from operating in certain areas. Bettors will find plenty of reliable options and a wealth of cashier options.
Safe Betting Sites for USA Players
While most betting sites on the internet are safe, like every industry, there are some rotten apples. Bettors need to read up on a site before they decide to deposit. There are several pieces of criteria to look at before depositing to determine if a site is trustworthy and reputable.
The first is longevity. The offshore betting industry is about reputation. It's hard to establish a reputation in just a few months, or even a few years in online betting markets. Many sites have been operating for over a decade or more and have not slow-paid or stiffed a single player. For this reason, it's tough to trust newly established sportsbooks, particularly with many of these sites going broke or scamming customers.
Aside from longevity, the shop's integrity is important. Do they honor their bonuses? Do they process payouts within their specific time-frames? Do they have predatory language in their terms and conditions? These are all questions you need to ask yourself before depositing.
Safety should be your first concern when it comes to choosing an online sportsbook. You can then begin to evaluate betting markets, bonuses, and other factors. We like to make things easier on players at BettingSites.com. The best option for those based in the US is 5Dimes.eu (mentioned above).
References and Citations
[A] – U.S. Could Dominate Global Legalized Sports Betting Market
[B] – Unlawful Internet Gambling Enforcement Act of 2006
[C] – The Poker/Online Gambling Boom: 2003-2006
[D] – Funds Seizure Stops Neteller Customers Withdrawing Money