SPORTSBOOKS for U.S. PLAYERS – Updated for 2015
Online sports betting in the US is more popular than ever. Billions of dollars are wagered every year on everything from football to UFC. There are only a few reputable US betting sites out there and we have done the research to recommend what we think are the safest USA betting websites to place your bets. Here are specific pages for poker and casino sites.
* Daily fantasy sports betting websites FanDuel.com and DraftKings.com, listed below, are 100% legal to wager on and win real money for players in the USA. These sites are a great alternative from your typical sportsbook. Placing bets at offshore sportsbooks over the internet is illegal for US players by the 1961 Federal Wire Act and confirmed by the DOJ in 2011. Online fantasy sites are growing in popularity at record speed and although there are currently five states that don't allow it (Washington, Louisiana, Montana, Iowa, and Arizona), they most likely will be joining the other 45 states soon.
US Betting Sites

FanDuel
Deposit Bonus:
Bonus Codes:
Deposit options:
100% up to $200
use link
Visa, MasterCard, Amex, Discover, PayPal, Bank Wire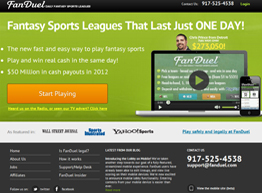 DraftKings
Deposit Bonus:
Bonus Codes:
Deposit options:
100% up to $600
use link
Visa, MasterCard, Amex, Discover, PayPal, Bank Wire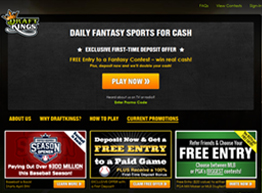 Sports Betting and the UIGEA
For those of you who are familiar with the UIGEA, it stands for the Unlawful Internet Gambling Enforcement Act. This act specifically excludes fantasy sports betting, and the Federal Government still maintains that sports betting is illegal. However, we are a little confused how sports betting is against federal law, but horse betting is completely legal where designated. Find more information for legal online sports betting.
US Betting Site Deposits
If the UIGEA accomplished anything, it definitely caused some disruption when it came to depositing at offshore sportsbooks over the internet for players in the USA. For the most part, depositing into sportsbooks by credit card was extremely difficult after the passage of the UIGEA, however, the online US betting sites have been extremely creative in finding ways to allow credit card deposits for US players at sportsbooks located offshore. In fact, credit cards remain one of the easiest ways to deposit for US players.
Is Sports Betting Legal in the US?
We are going to be up front and honest here; technically, US online sports betting at offshore sportsbooks is not legal thanks to an old law called the Wire Act that was created in 1961. The really weird thing is that the internet wasn't created until 1969. However, it is 100% legal for US players to play at fantasy sports betting sites located in the United States accept for five states; Arizona, Iowa, Montana, Louisiana, and Washington. For the remaining 45 states it is completely legal.
Have there been any arrests for Sports Betting?
We have not seen any cases where players have been arrested for sports betting, however, there have been several owners and operators of sports betting sites who have been indicted. One well known case was David Carruthers who was arrested as soon as he stepped foot in the US. No one knows why he risked coming to the US, since he knew about the indictment. Almost all online sportsbook operations are conducted overseas for this reason (not the fantasy sites mentioned above), and most owners are smart enough not to come to the US.