NFL Ray Rice No Longer Domestic Violence Offender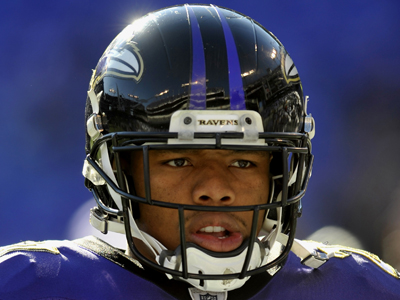 Professional footballer, Ray Rice may be one of the sports' best running back players but he is most notorious for the video showing him beating up his girlfriend at the time, Janay Palmer.  Despite the fact that Palmer was seen repeatedly striking his now-wife in the face multiple times and delivering a knockout blow, before dragging her unconscious out of a casino elevator, the Atlantic County Districe Attorney made a surprise announcement this week.  It stated that because the former Ravens player completed a pretrial intervention program, the case against him was dropped from a felony to a misdemenor and the domestic violence charge against him has been dismissed.  Rice is now no longer considered a domestic violence offender and the tag has been expunged from his record. As such, after paying a $125 fine and attending the 12 month program, the footballer has a sterling reputation once more.
After the incident in September 2014, NFL Commissioner Roger Goodell decided to punish Ray Rice with a two game suspension – a decision which earned him a lot of backlash by those who felt that he was not doing enough in his power to discourage domestic and other violence among NFL players.  As such, Goodell implemented a new policy against domestic violence, stating that "violations of the Personal Conduct Policy regarding assault, battery, domestic violence or sexual assault that involve physical force will be subject to a suspension without pay of six games for a first offense, with consideration given to mitigating factors, as well as a longer suspension when circumstances warrant.
The policy also states that a "second offense will result in banishment from the NFL".
After the video was made public, Rice was suspended indefinitely by the Ravens, but two months later the player successfully petitioned his suspension and was reinstated as an NFL footballer, free to sign with any team.