Taylor Swift Blamed for Power Outages at Nationals Park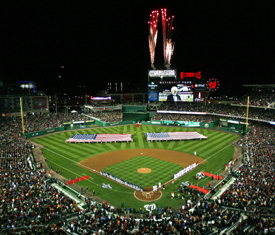 Tongue in cheek or serious? MLB Nationals player, Max Scherzer went on a mini-Twitter rampage on July 18th after play in the game between his team and the Dodgers was suspended due to three power outages.  Scherzer's theory, as he put it out there on Twitter, was that the singer, Taylor Swift was to blame. According to the player, since Swift performed two concerts at the stadium during the All Star Break, she somehow had something to do with the fact that the power was faulty in the stadium.
"Well who was the last one to use Nationals Park last? Taylor Swift.. I blame her for the power outs tonight. We now have #BadBlood," he wrote on his Twitter account.
Dodgers outfielder Doc Pedersen decided to jump on the blame-wagon and tweeted his own finger-wagging: "@taylorswift13 your concert used up all the electricity in DC..thanks for helping start the 2nd half with a bang."
Of course, it is unthinkable that Swift's successful concerts had anything to do with the power outages during the Nationals-Dodgers game. Nationals Park quickly put out a statement on Saturday, which read: "Our initial investigation indicates the power failure at Nationals Park last night was caused by a faulty circuit breaker. It was replaced shortly after midnight and the lights were tested throughout the night with no additional outages. While we believe we have identified and corrected the issue, additional tests are being conducted by the manufacturer of the field lighting system."
Not everyone was pleased that the game was suspended and scheduled for the next day. Nationals second baseman Dan Uggla said: "I thought we still could've played. I thought there was enough light to keep playing. I don't know the rules and regulations on that. … It's one of those things I'm sure was annoying for everybody. You want to get the games in when you can. You don't ever want to postpone or continue them the next day. You want to get them done that day. It is what it is. Things happen. You roll with it."