NBA Players Star in First Industry Fashion Show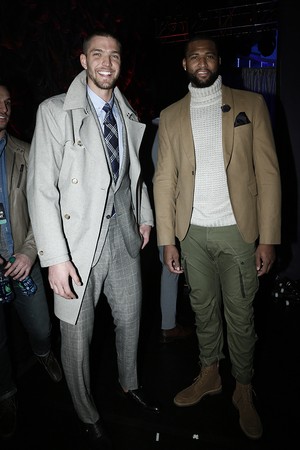 In recent years, a type of sub-culture has emerged in the world of NBA surrounding the style and trends of star players. The paps will study the latest fashion worn by the players and report on it in the media, with much focus placed on what the stars are wearing when they emerge from the locker -room after their game.
Now, NBA players are taking this trend up a notch by putting on the first NBA fashion show that will air this All-Star Weekend. The show will be produced by Cleveland Cavaliers forward James LeBron and emceed by Shaquille O'Neal.  It will feature three rounds, namely boardroom wear, attire for a fun night out and what to wear to the game.
The NBA fashion show will run in the form of an elimination style competition. Players such as James Harden and Klay Thompson will strut the runway with a supermodel on their arm and show the clothes in each category. At the end of each round, a panel of judges will decide which NBA players will advance, and which will not.
Eight players open up the show, with four advancing to the second round and the top two competing in the finals.
The show will be judged by designer John Elliott, GQ style editor Will Welch, Charles Barkley, Kenny Smith, and representing WNBA star Elena Delle Donne.
The NBA fashion show was taped on Friday night inside New York's Hammerstein Theater and will be aired tonight – Saturday – at 6:30 p.m. EST on TNT.